BRIEF HISTORY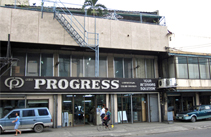 PROGRESS was originally established in 1948 dealing in raw materials for the upholstery and shoe industry. In the 1980s, the company expanded to include home and office furnitures, hotel and restaurant furnitures and other related interiors and home improvement products such as carpets, wallpaper, vinyl floorings, furniture components, window blinds, curtain rods and accessories.

At present, PROGRESS HOME & OFFICE FURNISHINGS have branches distributed over the Philippine Islands. Branches in Quezon City and Mandaluyong City serving Northern Philippines, Cebu and Ilo-Ilo Branches serving Central Philippines, and Davao Branch serving Southern Philippines.

PRODUCT LINES
Office Furnitures: Open-Plan Systems/Office Partitions, Modular Office Systems, Work Stations, Veneer & Laminated Executive Tables, Ergonomic Executive & Clerical Chairs, Waiting Chairs/Bench, Filing & Storage Cabinets, Lockers, Compactors, Stadium Chairs, Airport Waiting Chairs, Public Waiting Chairs, Theater and Auditorium Chairs, Toilet Partitions, Computer Tables, Whiteboards, Bulletin Boards, Connex Fire & Burglar Proof Safes.
Home Furnitures: Complete Range of Contemporary, Classic, Country Furniture Series, Fabric & Leather Sofas, Recliners, Home Theater Chairs, Veneer and Laminated Bedroom Sets, Various Dining Sets, Mirrors & Interior Paintings, Figurines, Outdoor Furniture.
Hotel, Restaurant, & Bistro Furnitures: Banquet Tables & Ballroom Chairs, Bistro Tables & Chairs, Isotop Melamine Table Tops, Fall-in-Line Stands, Cast-Iron or Aluminum Table Legs, Sign Stands, Luggage Trolleys, Hotel Bedroom Series, Hotel Safes, Pool Side Furniture, Large Umbrellas, Key House Cabinets, etc.
Outdoor Furnitures: Plastic Chairs and Tables, Plastic Rattan Furnitures, Parasols, Aluminum Chairs, etc.
School and University Furniture
Interior & Home Improvement Products: Wall-to-Wall Carpets, Carpet Tiles, Horizontal & Vertical Blinds, Roller Shades, Curtain Rods, Wallpapers, Big Stud Floor Mattings, Vinyl Floorings, Loop Mattings, Laminates by Meters & Sheets, Chair Parts
Curtain Rods Hardware and Accessories: Traverse Rods, Heavy Duty Curtain Tracks, Silent Type Aluminum Curtain Tracks, Finials, Pulling Pull, Curtain Rings and Hooks, Brackets, Runners.
Furniture Components and Raw Materials: Melamine Boards, Drawer Locks, Catches, Drawer Slides, Wardrobe Roller Guides and Mechanism, Drawer Handles and Knobs, Casters, Shelf Support, Adjustable Gliders, Assembly Screws, Lazy Susan, Keyboards, CPU Stand, Furniture Accessories, etc.
Upholstery Supplies: Contract Fabrics, Sofa Fabrics, PVC, PU, Canvas, Vinyl Sheetings, Standard & Mattress Size Foam, Rubber Foam, Pillows, Pocket Spring Beds, bonnell Spring Matresses, 100% Cotton HN Fabric, Vehicle PVC and Fabric, V-Nylon(Tarpaulins), Matress Cover, Springs, Chair Nails, Tacker Nails, Sofa Legs, Webbings, etc.
Plastic Pallets, Versaboard, Xanlite Polycarbonate Sheet, Plastic Trash Bin, Plastic Road Blocks, PlasticTraffic Warning Devices, Monoblock Chairs and tables, School Study Chairs
Picture Wood Frames, Raw Material and Finish Products